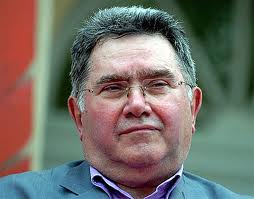 While attacking ecologists, media, and other enemies of progress, Claude Allègre  fails to address any of their concerns (for example, why nuclear experts had Japan build reactors in a Tsunami zone, indicated by hundreds of enormous stones engraved with explicate warnings placed by previous generations; or why a cut in electricity in a turned-off nuclear reactor can bring us to a situation approaching meltdown; or what a  20km no-go zone means in a tiny, densely populated country? or why TEPCO talks of 6-9 months to stop releases of radiation, etc; or why repeated safety violations were not dealt with or publicized, etc). 
From an interview of Claude Allègre April 21, 2011 with Frédéric Paya for Valeurs Actuelles)
On Fukushima :
 "Les deux événements majeurs qui se sont produits au Japon sont le tremblement de terre et le tsunami, et rien d'autre ! À Fukushima, il y a eu certes un accident mais il n'y a pas eu de catastrophe nucléaire."
"Lors des accidents, des incidents et des pannes, ces risques ont toujours été parfaitement maîtrisés."
On consulting the French with a referendum about nuclear power:
"Vous n'allez quand même pas demander l'avis de la population française sur un sujet aussi pointu que le nucléaire ! La démocratie est une bonne chose quand la consultation porte sur un thème dont tout le monde comprend les tenants et les aboutissants. Va-t-on demander aux Français s'ils pensent que le théorème de Pythagore est exact ou non ? Il ne faut pas faire de référendum pour décider d'une réalité scientifique."
On the desire expressed in Germany to get out of nuclear power:
"Je n'explique pas cette absurdité ; c'est une bêtise ; c'est de la politique politicienne."
On ecologists:
" J'affirme que les écologistes sont vendus, il faut bien comprendre cela. Pourquoi croyez-vous qu'il y a un lobby pour l'éolien ? Tout simplement parce que les sociétés qui exploitent les éoliennes financent les mouvements écologistes ! Les écologistes sont des gens d'extrême gauche"
For a particularly charming article on M. Allègre, see this week's Le Point "La Défaite du progrès"  ("On ignore ce que savent exactement Nicolas Hulot, Eva Joly ou ineffable José Bové (sans doute pas grande chose), mais ils sont contre, contre tout!" )
A prize-winning member of the French Academy of Sciences and the author of numerous books,  Claude Allègre, also denounces global warming as nonsense and opponents of shale gas fracking as ignorant, backwards cowards.