Succinct, personal and slightly whimsical, the Proust Questionnaire offers a glimpse into the personality and work of writers who have made Paris their home.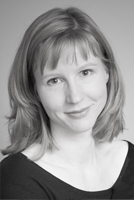 To start off the series, Anne Marsella interviewed novelist Janet Skeslien Charles.
"I had the pleasure of meeting on a panel at a literary festival in Fontainebleau this fall, hosted by Sue and Judy at Reel Books.  Janet's widely acclaimed novel Moonlight in Odessa recounts the story of a mail-order bride with compassion, humour, and remarkable accuracy.  I was instantly taken with Janet's openness and generosity.  Currently the Programs Manager of The American Library, Janet facilitates exchanges between writers and the reading public.  She also teaches creative writing at Skidmore College in Paris."
Proust Questionnaire with Janet Skeslien Charles
When were you happiest?
Most recently, May 2008. My husband ran a marathon and my novel Moonlight in Odessa sold. It was great for both of us to reach our goals the same weekend.
What is your principle defect?
I worry too much.
What makes you depressed?
Seeing all the greed in the world.
What is your favourite word?
For the sound, dimple. For the meaning, to revel.
What is your guiltiest pleasure?
Milk chocolate.
Who are your favourite writers?
They constantly change, depending on my mood and who I'm reading. Right now I am really enjoying Hilary Mantel's first novel, Every Day Is Mother's Day. I love Midnight in the Garden of Good and Evil by John Berendt.
What is the worst job you've done?
I worked as a maid at two hotels and waited tables. These jobs taught me important lessons.
What do you most value in you friends?
Loyalty and honesty.
What gift would you most like to possess?
More time in the day.
What is your most treasured possession?
My photos of friends and family.
If you could edit your past, what would you change?
I have made a lot of mistakes, but I would not change anything.
If you could go back in time, where would you go?
San Francisco.
What is your greatest fear?
Getting stuck.
What is the most important lesson life has taught you?
Keep reading and learning, keep striving. 
Janet Skeslien Charles' debut novel Moonlight in Odessa was chosen by Publishers Weekly as one of their top ten debut novels of Fall 2009. It was Book of the Month in the September issue of National Geographic Traveler. BBC Radio 4's Book at Bedtime featured Moonlight in Odessa for two weeks in February 2010. It recently won the Melissa Nathan Award for Comedy Romance.
Anne Marsella is the author of four books: The Baby of Belleville, Remedy, Patsy Boone and The Lost and Found and Other Stories.   Her work has appeared in numerous publications and anthologies both in the US and in France. She is the recipient of a Pushcart Prize nomination, the Elmer Holmes Bobst Award (New York University Press) and several residency fellowships.  Her novel, Patsy Boone, was written directly in French and published by Editions de la Différence.  Having taught literature and creative writing at the American University of Paris and associate directed New York University's Writers in Paris program, she currently directs the Wells College Arts in Paris program