Authors on Authors
Laurel Zuckerman talks with Barry Kirwan about Eden, science fiction and the craft of writing.
Barry Kirwan's The Eden Paradox is the first novel in the gripping Eden science fiction trilogy.  When he is not writing, Barry earns his keep as an air traffic safety expert. His nonfiction books include A Guide to Task Analysis (Taylor and Francis), A Practical Guide to Human Reliability Assessment (Taylor and Francis), Changing Regulation (Elsevier), and  Human Factors in Air Traffic Management (Ashgate). 
Barry's short stories and essays include a hilarious send-up of writers' groups—which was in no way inspired by his exemplary experience with (among other talented writers)  Christopher Vanier (Caribbean Chemistry), Janet Skeslien Charles (Moonlight in Odessa), and myself (Sorbonne Confidential) in a group led by the scholar poet Jennifer Dick (Fluorescence).
 ***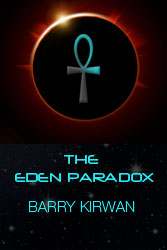 Laurel Zuckerman: What brought you to sci fi? Is it linked to your profession? A childhood dream?  Trauma?
Barry Kirwan: I've read and watched SF since a kid, grew up on Star Trek and Asimov, still love it. Like Micah in my book, I used to dream of being an astronaut.
 LZ: How did you conceive your Eden triology?  What inspired you to create this world? What did it take to develop the story and the characters?
BK: It started as a short story called 'Trouble in Eden', which was okay, but a dead end. A mutual writing colleague (Chris Vanier) suggested I develop it into a full-blown 'space opera', and so when I was on holiday in Africa, the plot exploded in my mind over a period of two weeks, and I worked out the overall arc of the first book. A lot of the 'world-building' for a future Earth (in 2065) and Eden was added later, particularly as I began to write Book 2, which moves away from Earth and Eden, deeper into the galaxy. That was a lot of fun. One of my sources of inspiration, oddly enough, is The 'Economist', since I try to paint a picture of the politics in 2065, extrapolating from today. The rest kind of emerges from all the SF reading and watching I've done over the years, sprinkled with a few of my own ideas. I'm a psychologist by training, so there is a bit of focus on the human mind and future technologies which might be used to unblock it. The characters - well a couple have some of my traits, poor fellows, and a few more are loose adaptations of people I know. Anyway, as a writer, I learned that if you talk to your characters long enough, they start to answer back. Not always politely, mind you... We're still all friends though.
LZ :You wrote a hilarious (and devastating) piece about writers' groups. Is it because they're secretly for girls?
BK: Hmm. Is that a leading question? And is it really a secret? There are usually more girls in a writing group than men, though not in the story itself. I wrote that particular piece because I think there are a lot of things beginning writers should know (the 'nine fences'), and most people don't want to tell them in case they get discouraged, so they have to learn the hard way. I wrote it during a period when I was pretty fed up with the publishing industry, so it was a kind of therapy, but then I got sucked into it and realised it was good enough to get published. So I made it humorous because (a) people learn from humour, and (b) life's just too short.
LZ: Do you think that there's a difference in the way that men and women approach writing? Is there something special about Men with Pens* (Please be honest!)
BK: In my limited experience, yes. At least the comments in writing groups from males/females would tend to come from different directions. I remember a hilarious evening when ten women and two men (I was one of them) were asked to write a short piece about sex. Nine of the women wrote about love, and us guys, well you can guess, and I'm crap at writing sex anyway, but we all stared around the room (the pieces were anonymous) wondering which woman wrote the hottest piece, about seducing a woman and making love with her. Turned out to be a  bisexual woman who wrote it. Anyway, the evening was pretty interesting, LOL. As for Men with Pens - well, we have a woman coming to our meetings now.
LZ: Science fiction readers tend to be clannish. How do you plan to reach out to them? Are you on sci fi groups? Twitter? Facebook?
BK: This is my biggest current problem, as my day job is pretty intense, so in my spare time either I write/edit, or I blog and do social networking. Tricky to get the balance right. Working on it... 
LZ: The Eden Paradox is the first book in a trilogy. How will releases be timed? If a reader loves the first book, will he/she be able to read the second immediately, or is it necessary to wait?
BK: Book Two (Eden's Trial) will be released over the summer (just agreed with the E-publisher, Ampichellis). Then I have to write the last one, so that's going to be mid-late 2012.
LZ: Your cover is terrific and a source of writer's envy. Can you tell us how it was done?
BK: I'm very happy with the front cover, and I know most authors don't get what they want or ask for. I was in Mauritius and meant to be scuba diving, but pulled a muscle in my back for a few days, so had some time on my hands. I had a clear image for the cover in my head, and did some work wih my web-designer Annie (DigitalPlot) to turn my idea into a real image (the one on the website, which I also really like). Then I sent it to the publisher, and their artistic director (Sharene) did a fab job and took it one step further. The general image comes from a scene later on in the book, and isn't Eden, by the way, nor is it even a planet (you'll have to read the book..). The ankh symbol is key to the story, and although it usually is taken to mean life, it's actually a lot more ambiguous, and its origin is pretty well unknown. In Book Two there is a hint about where it actually came from...
LZ: How do you manage to write while holding down a demanding full time job (on which public safety depends). Do your employers know about Eden? Are you going to tell them?
BK: Insomnia, LOL. See my blog. I wrote about it at 4am one day. I tell everyone about my book, so yes, my employers know. A few of them joked that all these years they thought that everyting I wrote was fiction anyway :-))
LZ: Which writers have influenced you the most? Who are you reading now?
BK: Isaac Asimov, Arthur C. Clarke, David Brin, Frank Herbert and Iain Banks. Lately, Alastair Reynolds, too. Currently reading Banks (Matter), and Peter F Hamilton (The Reality Dysfunction), as well as Nova Wars (Gary Gibson) and The girl who kicked the hornet's nest (Larsson).
---
* a male writing group we expect great things from
Barry Kirwan's The Eden Paradox is available on Kindle. You can visit his blog at http://barrykirwan.com/ 
Laurel Zuckerman is the author of Sorbonne Confidential and the Editor of Paris Writers News.
For more interviews with authors, see Paris Writer News Interviews or follow us on twitter at @pariswriters