Authors on Authors
« I wrote 1000 postcards to our daughter, Georgina, from 1989 to 1999.
It was a kind of mothering from a distance.» 
This week Paris Writers News talks with Jennifer Butler, author of the extraordinary James, Jennifer Georgina, which tells the story of a family's survival in a battle against alcoholism.
In collaboration with the acclaimed designer Irma Boom, Jennifer has created a searingly personal memoir so remarkable in design and content that it will be exhibited at the MOMA and the Victoria and Albert Museum.
Jennifer Butler will speak at the American Library in Paris on April 6 at 7:30 pm.
 ***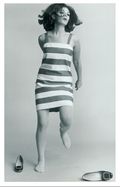 Laurel Zuckerman :  What was your first job writing? How did you get into screenwriting?
Jennifer Butler : My first writing job.  Job sounds a funny description for those 26 letters.  My first try at writing was a contest for the New York State Historical Society.  I think I was in the sixth grade in Elmira, New York.  It was probably a 200 word essay.  I chose the origin of the name to the nearby village of Horseheads.  I won a trip to Albany, the state capital and a photo with Nelson Rockefeller who must have been governor and $50 for first prize.  It was a very heady experience. My next assignment was for Harper's Bazaar, the women's fashion magazine - it's printed in the book.  Seeing my name in print the first time thrilled me like no other thrill. And that first check equally thrilled me. Paid to write.  I still have a copy of the check with a note to my parents. That article, 'Traveling at 2000 m.p.h,' I sent that in cold and the feature editor, Barbara Goldsmith, rang me and said she was printing it and to continue submitting any work I wrote.
 I went to Hollywood because of another writer, Nancy Dowd.  We had an idea for a soap opera about an adopted girl looking for her real mother.  We pitched this to Lyn Bolin who was in charge of Daytime Television at NBC but nothing came of it.  Between that experience and finally getting on staff at EMI television to develop FIRST WOMEN"S BANK there were the usual odd jobs like selling film ends bought from studio productions and sold to low budget independent film makers.  I don't want to remember some of the other odd jobs but I had a very typical career in Hollywood.  No over night success was there at any time. I paid my dues.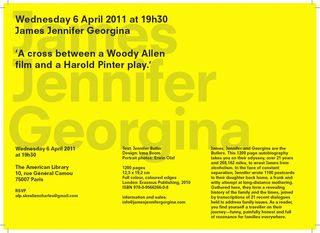 LZ : What path led from commercial writing to James Jennifer Georgina, which has been hailed as a revolutionary renewal of the book? 
 JB : A number of rejections.  I have written three novels which have been "almost" published.  I wasn't discouraged but in 2007 we were selling our house in Provence, Le Mas de la Chapelle St Sixte, in Eygalieres.  It was rumoured to have been slept in by Pope Clement VI.  Whether it was truth or gossip it was an extraordinary house with a parade of very high vaulted ceilings.  It was unusual in many ways and we decided to self publish a document about the history of the Mas.  The book was a wonderful visual success and even brought Angelina Jolie and Brad Pitt to consider buying it.  Like any historic monument it came with development limitations and code restrictions.  Nevertheless, publishing fascinated me.  The format. The type. The layout. The concept. The marriage between content and design.  The paper.  The ink.  I realised then, with the internet, books had to become more than information.  They had to be an art object, an intimate human document or an extraordinary edition. A book had to be beyond the capability of an i-Pad, a Kindle or even a computer screen.  My search for Irma Boom took a year and a half.  I don't want to mention the designers I looked at but they were all innovative but not right for the subject or they dominated a subject with their designs or they didn't pay attention to the ink/paper contrasts or they didn't invent anything new which touched me. At the same time I read books by Jan Tchichold, Wim Crouel, Karl Martens, Eric Gill, Müller-Brockmann, Alan Fletcher to name a few.  For any aspiring writers reading this: the most important step between success and failure is the query letter you must write cogently and clearly to get inside the door. You need to do the 'do diligence'. Irma has admitted in public that the letter I wrote convinced her from the beginning that we would be a good team and she had never ever worked with a commissioner and she had never done a human document.  She is a specialist in catalogues and academic treatises on architecture and archive material.  And that still is her speciality.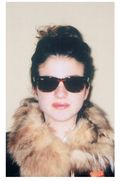 LZ : What is your process? How do you write?
 JB : The hardest part of the process is sitting down at my desk.  I could write the longest list of excuses I have created NOT to write.  I would prefer to take the rubbish out than sit down and write. However, once I am seated I equally hate to stop. In the end, it has to be a mindset, a mindset like losing weight or giving up drink.  Before I go to bed I commit myself to 2 hours of writing.  It doesn't matter whether it is good it just matters that I have written.  I like the process of revising.  I do find reading a necessary part of the process.  The way eating nourishes the body, reading nourishes the mind.  I find interesting techniques for dealing with time which is always challenging.  And poetry is helpful for innovative ways to use words.  
LZ :  You have a letter from Simon de Beauvoir. How did you enter into contact? What did she represent for you?
 JB : The way in which I contacted her reveals how the world has changed and privacy.  In 1980, there was a gazetteer of Who's Who in the World and as I remember it might even have been divided by specialities. Who is who in history.  who is who in politics.  Who is who in literature etc.  I had been a great fan of her work.  She is a hero for my generation of women.  And I looked her up in Who is Who in Literature and at the end of the column or columns describing her life and career was her home address.  She was approaching her seventy-fourth birthday and so I wrote "Chocolate Cakes" as a kind of birthday card, a sort of very long postcard.  She was my role model and I tried to imagine myself at seventy-four and the card just went on and on.  I never revised it.  I wrote it in one sitting in long hand with a proper pen.  I still have the graph paper notebook I wrote it in.  I then transcribed it with my manual Smith-Corona typewriter.  I think it is in pica font.  The return was a handle near the roller.  
 She represented a legitimacy as a writer.  She was an academic.  She was a novelist.  She was a lover of Jean-Paul Sartre who was a literary hero of my father's.  "Words" was one of his favourite books. And she lived in Paris and travelled and was independent.  Yes.  Legitimacy is what she still represents to me.  I still treasure that first letter from her where she wrote.  "Vous avez beaucoup de talent...."  It was like an anointment.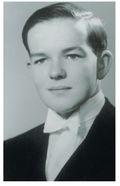 LZ : What writers inspire you? Who should one study to become a good writer?
Alice Munro comes to mind first.  Her skills are so many and all so subtle.  Although her characters mostly have a similar problem, divorced and financial and on the move, each is unique and she handles each differently.  The dialogue from one would never be similar to another.  Her stories are always fresh, always well paced.  When I am down I can forget about the black dog with her work.  That is how deeply she affects my spirit.  
I think Flannery O'Connor is one of the most imaginative writers.  Hemingway and his use of enormously long rhythmic sentences in between his short sentences.  I learned the importance of AND in his work.  Chekhov.  George Elliot.  Whatever I'm reading currently is my favourite.  Like a young girl with her changing boyfriends.  The current one is the one I love.  And some of the previous I have outgrown in some curious way.  I've moved on and I can trace my biography through my books.  I can look at an author and remember what I was doing and how I was feeling.  My library is an information  retrieval of my time line.  At the moment, I am deeply interested in the page - the air between letters, the thickness of lines, the letter 'g', margins, paper quality, fonts.  Alphabets are as complex as any canvas and it is the designer who manipulates the subjects on the page.  I'm reading Paul Rand and Wim Crouwel, two iconic designers.  And, I am also reading Frankenstein by Mary Shelley.  I find it difficult to put down it is so good and am astonished she was eighteen when she wrote it.
LZ : For JJG you knew from the very start--even before you had decided what shape the book would take--that you wanted Irma Boom.  You had never met her, never spoken to her, and yet you KNEW she was the one to make this book a reality. How did you know? 
 JB : Some of this answer is in the text of my last response.  My favourite designer is Alan Fletcher.  His most famous book is THE ART OF LOOKING SIDEWAYS. I wrote it in caps because it is a very BIG book.  I will bring a copy to The American Library when I speak because it was key to my journey.  I had these 1136 postcards and it had not occurred to me that I didn't have to use them all.  I'm laughing out loud at myself.  But I hadn't thought about culling them so BIG was high on my priority in this search.  This book - TAOLS - was one you could dip into and out of which is what I envisaged with the postcards. Some pages were more interesting than others but not one was dull.  They were each thought provoking.  I read another of his books, Beware Wet Paint.  On one page, drawn clear across the page in his unique handwriting he had written, 'I don't know where I'm going but I'm on my way.' When I read that it felt like Eureka!  That pretty much summed up my spirit and character.  So in the early summer of 2006 I started my search for Mr Fletcher and, like Mme de Beauvoir, I never thought I wouldn't find him and I was certain he was going to embrace the project. That he would get it.  I did find him but sadly, very sadly, he was ill with cancer.  I told his wife about the project and that her husband was the man I needed.  She spoke to him and it was Alan Fletcher who relayed through his wife that Irma Boom would be very good and I should contact her.  So it was his direction and shortly thereafter an article in the Herald Tribune about her work that convinced me he was right.  I then spent 7 months rewriting the letter of introduction and a proposal on behalf of the project.  The letter went through 44 revisions.  Publicly, in Amsterdam, Irma told an audience of several hundred people that it was this cover letter that convinced her to take on the project.  In fact, she read the letter in its entirety.  So to all of you aspiring writers, you can not spend enough time on this query letter.  My writing group and my husband were so fed up with this letter by the end one of them said in the most brutal tone, 'Just send it for ******** sake !!!!!!'
LZ : JJG is revolutionary in design and classical in its three part structure, a masterful union of content and form. How did this work evolve? 
 JB : I can take no credit for these three acts.  This was completely Irma's idea.  She felt the postcards needed to be brought forward to the present and we were each very articulate and open.  The three of us do not couch many of our remarks with ordinary politeness.  In one of the dialogues I describe a marriage as a kind of culture and our culture, like any culture, is dense with traditions and loyalties. Marriage is a very difficult institution and if you succeed, if you raise an institution, it takes much to bring it down.  And because we have the trust built up over these years we give each other the freedom to say things as we feel them.  It isn't a matter of politeness, it is what it is.  And we give each other a lot of understanding about what is going on at the time.  Maybe a bit like the way one interprets a dream.  What is happening on the day is how one interprets the dream and how one couches statement or question is going to be influenced by the stresses or joys of that day.  
So those twenty-one conversations -  which have been described as crisp, as brutal, as fresh, as numerous adjectives -  are the three of us in concert live.  We had one guide line which was that there would be no editing of any remarks.  And the truth is we had no idea what Irma was envisaging them for.  We didn't even know how many there would be.  One? Two? Three?  I don't even know if Irma knew but I sent them to her one by one and she just kept saying "More."  "More." "More." And then the 21 added up to a three and it was Georgina's 21st birthday.  I think the hardest part was the transcription.  Listening to the tapes and typing them a few words by a few words.  Irma's instinct was inspired and this is one of the most important roles of the book designer: to marry the content with the design.  
The design cannot be more important than the content. And of course the yellow is symbolic of what the book is about.  It was the first human document Irma did.  She had done some very private commissions of several people who were celebrating their 50th birthday who wanted some memorabilia put together in a very special way but she had never done a biography of a family. If one takes the time to read the postcards carefully and then the conversations and then look at the photo album, you know everything you need to know about James, Jennifer and Georgina.  One would be able to fill in many blanks and anticipate their reaction to any abstract situation that one might imagine.  It evolved over 18 months.  I had little time for anything but the book for this period of time.  It was a privilege but it was also very difficult.  There were also 14,000 typographical errors corrected in the 1200 pages just to give you one small statistic.  
Irma was revising until the very end; she was repositioning type until the last hours of printing.  We exchanged close on 9,000 e-mails. And as in all honest relationships, tempers rose and fell.  
 LZ : What's it like, as a writer who cares about words, to work with a creator like Irma Bloom whose focus is design? 
 JB : She was always focused on the content.  The design was always generated by the content.  The problems were never in that area. Maybe that Irma is Dutch and the book is in English there was some confusion in interpretation but not serious difficulties.  And her English is refined enough that she picked up some bold errors.
LZ : JJG necessitated extremes of creativity, desire, preparation and fearlessness. Is there any wisdom you've acquired that you could share for other writers embarking on ambitious, off-the-beaten path projects?
 JB : Just follow your passion.  Someone gave my daughter some advice about how you choose a career path.  He said, you can do what you're good at.  You can do something to make a lot of money.  Or, you can follow your passion.  Following your passion rarely has anything to do with the first two.  And the light bulb went off for Georgina and it also went off for me.  I followed my passion.
LZ : Expositions are in the works for the MOMA, the V&A and other venues. Could you tell us more about some of the events that have been planned?
 JB : Books are changing and museums are realizing that design is today's Pop Art.  I am very lucky that Irma Boom is a visionary in book design and JJG has been added to her library of publications.  I couldn't be so arrogant as to say JJG is yet such an icon that these institutions are giving us an exhibition.  We are, by luck, IB's most recent and innovative production. And that she invented the 3-rib spine for the book adds to its innovations.  JJG will be integrated into her exhibition at MOMA, at the V & A and the Harvard School of Architecture has sent a letter asking for an exhibition.  These things do not happen over night.
LZ: What changes will be made for the paperback? Is it a separate project?
JB : It is a separate project.  All will be different.  The paper, the binding, the postcards, even some of the photographs.  An unlimited edition is industrial.  This limited edition is for book collectors and visionaries.
LZ :  What will you do next?
 JB : I want to revise my novel, Quercus and finish another novel, Fuji Views.
LZ : Writers are always looking for inspiring, quiet places to work and good, inexpensive places to eat. Any recommendations for Paris?
 JB :  I need to work at the same place everyday.  I know my desk means work and when my door is closed no one knocks or disturbs.  I don't really like anyone else in the flat when I'm writing.  The smallest noise can annoy me.  The only cheap place in Paris is not eating and a bottle of Badoit.  It tastes delicious and the bottle is very elegant and I know how extravagant it is and the extravagance charms me.
Jennifer Butler will speak at the American Library in Paris on April 6 at 7:30 pm.
Laurel Zuckerman is the Editor of Paris Writers News.
For more Paris Writers News interviews. see http://www.laurelzuckerman.com/paris-writers-news-interviews-.html