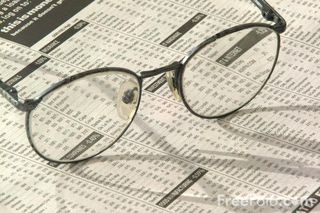 This month, news from Alan Riding, Ann Mah, Peter Gumbel, Zoe Shepard, Her Royal Majesty, Beverley Bie Brahic,, Gabriel Josipovici. Cordilia Fine, Jeffrey Greene, Alexis Niki, Ellen Hinsey, Ben CrystaL, David Crystal , Tatiana de Rosnay , Alberto Manguel, Meredith Mullins, Thirza Vallois,  Anne-Marie Smith-Di Biasio, Geneviève Brisac and Agnès Desarthe , ANDRE ACIMAN, SIRI HUSTVEDT, Writers Workshops, Meet-ups, Spoken Word and The Paris Short Story Contest
New books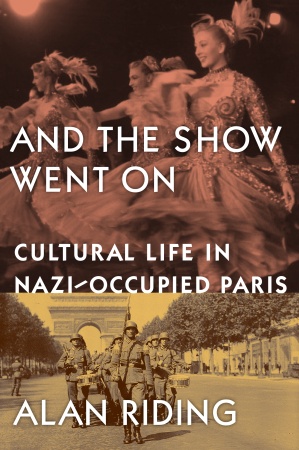 Alan Riding And the Show Went On: Cultural Life in Nazi-Occupied Paris.' Were artists  "saving" French culture by working under the German occupation? Were they betraying France if they performed before German soldiers or made movies with Nazi approval? Was it the intellectual's duty to take up arms against the occupier? Then, after Paris was liberated, what was deserving punishment for artists who had committed "intelligence with the enemy"? See November 10 talk at the American Library
Tatiana de Rosnay A Secret Kept has just come out. Her international bestseller, Sarah's Key, is now in cinemas starring none other than Kristin Scott Thomas! Author signing November 23 at WH Smith.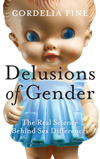 Delusions of Gender : How Our Minds, Society and Neurosexism Create Difference by Cordelia Fine. I'm breaking my own rules to talk about this book as Ms Fine works outside France, but I found the essay too fascinating to ignore. Why do little girls insist on wearing pink? Even old time feminists like myself had begun to swallow "female brain" hype so popular these days. A thoughtful, measured, well-documented deconstruction of the latest "scientific" nonsense about women. Come to France, Cordelia!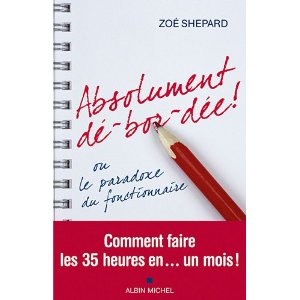 Absolument Débordée by  Zoe Shepard (aka Aurélie Boullet). Published in French, this account of incompetence, nepotism, laziness, waste and sexual misconduct among French fonctionnaires rocketed to best-seller status after the (moronic) President of the Aquitaine Region filed a complaint against the author, who had taken great pains to disguise her characters. "Those worthless parasites--why that's us!" he is rumored to have claimed. The result: Aurélie, who is what's called a "haut fonctionnaire" was suspended without pay, and her book hit mega bestseller status. (The people whose flagrant misconduct she ridiculed were not troubled.) I must admit that it took me nearly forty pages to start enjoying Débordée, but the story takes off with the hilarious (and very accurate) entry of the Chinese delegation.  For anyone curious about where all those French taxes go....
Congrats on a terrific review for Alexis Niki's My Bitchy Witchy Paris Vacation and for the triumphal Australian, New Zealand tour of Thirza Valois where  spoke about  Paris and French art and culture  to thousands of enthusiastic lovers of France all over those two antepodean countries!
LAST CALLS FOR SUBMISSIONS TO THE PARIS SHORT STORY CONTEST!!! Deadline November 30, 2010 
http://parisstoriescontest.blogspot.com/

Selected Events (for complete listing see Paris Readings)
7th.November : PLAY READING AT CARR's PUB Pascal Lagrandeur : "T'avais qu'à pas voter pour!" (en français) (see Moving Part's on sidebar)
 Monday 8th November 7:00pm  Ann Mah will be reading from her amusing and moving novel Kitchen Chinese at SHAKESPEARE AND COMPANY (see our interview with Ann here!)
Monday, November 8th at 7 pm  SIRI HUSTVEDT The Shaking Woman or A History of My Nerves VILLAGE VOICE 
Wednesday 10 November 19h30 Evenings with an Author Alan Riding on 'And the Show Went On: Cultural Life in Nazi-Occupied Paris.' AMERICAN LIBRARY
 Friday 12th November 7:00pm The launch for the 9th and 10th issues ofHer Royal Majesty, a quarterly literary arts publication, will be celebrated jointly with a reading at Shakespeare & Company. Anne Marsella, Ryan Kerr, and other artists and writers will read from and present their work. SHAKESPEARE AND COMPANY
 Monday 15th November 7:00pm  An evening of short fiction, poetry and translation in collaboration with independent press CB Editions. Publisher Charles Boyle will present both Beverley Bie Brahic, poet and translator of Francis Ponge and celebrated short story writer & novelist Gabriel Josipovici SHAKESPEARE AND COMPANY
 Tuesday 16 November 19h30   AAWE & MESSAGE@The Library Perspectives on French education with Peter Gumbel. AM LIBRARY (see our interviews with Peter Gumbel on his bestselling essay : On Achève Bien Les Ecoliers)
21st.November PLAY READING AT CARR's PUB: Tom O'Brien : "Surviving the Wounded" (in English) See Moving Parts listings
 Monday 22nd November 7:00pm An evening of poetry with two of Paris's most celebrated poets Ellen Hinsey and Jeffrey Greene. Both writers have various collections of poetry and been published in The New Yorker, Poetry, Poetry Review among other publications. SHAKESPEARE AND COMPANY
 Tuesday 23rd November - 7 pm  Tatiana de Rosnay, author of the international bestseller 'Sarah's Key,' whose film adapatation is currently in French cinemas, will present and sign her new novel 'A Secret Kept'.  AT WH SMITH
Tuesday, November 23rd at 7 pm  An evening dedicated to the life & work of Virginia Woolf
celebrating the publication of Anne-Marie Smith-Di Biasio's Virginia Woolf : La Hantise de l'écriture. A discussion about the work of Virginia Woolf with the author and French novelists, Geneviève Brisac and Agnès Desarthe, co-authors of La double vie de Virginia Woolf. VILLAGE VOICE
Saturday 27th November 6:00pm Come for a book signing with Ben Crystal (Shakespeare on Toast) and David Crystal (The Stories of English). 'David Crystal is not just a great linguist, but a true champion and lover of language.'—Benjamin Zephaniah SHAKESPEARE AND COMPANY
 Monday 29th November 7:00pm Tonight we are delighted to welcome Alberto Manguel, internationally acclaimed novelist, essayist, anthologist, translator and editor. Manguel will be speaking about fiction and will treat us to a short reading from one of his novels SHAKESPEARE AND COMPANY
Workshops, Courses and Literary Salons
WICE Writers Drop In (must be WICE member) see   http://www.wice-paris.org/wice/creative-writing-and-literature/wice-writers-drop-in

Writing Workshops for Young Adults at the American Library in Paris: 
5 November 2010 19h00 - 21h00 Creating Characters that Break the Pattern (ages 12+) Cathy Altman Nocquet returns to ALP for an evening with teens.  Participants in this workshop will probe their imaginations and use descriptive writing to create strikingly original characters.
5 November 2010 19h00 - 21h00 Plotting - Taking the story a step further (ages 12+) Tioka Tokedira, the regional advisor for the Society of Children's Books Writers and Illustrators will lead a workshop on plotting. 
For teen events and certain seasonal events, sign-up is required as space is limited. Please call the Library at 01.53.59.12.60 or email Celeste: rhoads@americanlibraryinparis.org to sign up. Unless otherwise stated, all programs are free for library members and 9 € for non-members.

Wednesday November 10 and 17th 10:00 am to 12:30 P.M.: WICE Words and Images Workshops. (Note: you must be a member of WICE to attend this workshop). This two-session workshop will provide the basic writing tools for crafting a good article (interview techniques, choosing a powerful "hook," organizing information, ensuring efficiency of words) and the photojournalistic skills to capture great photos to accompany the story. You'll choose a subject to explore and prepare an article/blog-post/story to share with the class. We'll also discuss the best channels for publication for the final story and the best way to pitch yourself and your story to an editor. Instructor: MEREDITH MULLINS is an internationally exhibited photographer, writer for Paris publications such as Paris Magazine, Bonjour Paris, and Eye Prefer Paris, a winner of the 2009 Grand Concours Photo sur Paris, and author of the award-winning book In a Paris Moment. Fee: 75€ AT: Artist's Studio, 75004 Paris; Métro: Pont Marie, Hôtel de Ville Contact: http://www.wice-paris.org/wice/
Nov 15, 7:30PM   Literary Salon at the Café de Flore: Reporter, author and educator Mort Rosenbloom will be joined by Le Monde correspondent, Remy Ourdan,  to discuss Madmen and journalism in a digital world.  Tickets: 40 euros  (includes 2 glasses of wine, charcuterie and a copy of LITTLE BUNCH OF MADMEN.)  Reservations: Terrance@paris-expat.com or 06-7098-1368  (see our interview with Terrance here)
 Paris Literary Salon November 16 and November 18 (King Lear Friday November 26th 6-10:30 PM   five places available; White Teeth by Zadie Smith Sunday  November 28 4-8:30 pm  two places available)      45 euros for the five hour study (includes axillary materials) contact Toby Brothers at http://literarysalon.free.fr/