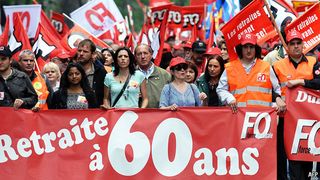 Fewer workers to pay the pensions of more old people. That's the flip side of people living longer and having less children.
The big losers? Young people onto whom feckless, irresponsible, greedy elders have shifted the burden.
Unfunded pension obligations is theft against future generations, and according to calculations by Laurence Boone, an economist at Barclays Capital in Paris, "the pension-fund deficit will widen to €24.5 billion by 2030." (source: The Economist). 
So why are students marching in the streets to defend a system which forces them to work longer so that their parents can work less?
Scrambling for ammunition to fight the government, the Unions, the Socialist Party, UNEF and UNL (the national university and high school students unions) have called for reinforcements among the young. It is a Children's Crusade. And like most Children's Crusades, it has little to do with benefiting children.
Already SNCF, RATP and numerous other beneficiaries of REGIMES SPECIAUX who are (sadly) untouched by this reform are planning transportation havoc for the private sector people who will have no choice but to work longer, reform or no reform.
And now, the youngest and most exposed victims of the current system have been manipulated into joining in as well.
Radicals hope for "débordements"--perhaps some media friendly violence. 
Meanwhile, unfunded pension debt continues to rise.
Poor France...
Here is former Socialist presidential candidate calling on  15 and 16 years olds to demonstrate in the streets, apparently oblivious that some parents might object to her encouraging their children to cut classes.
Ms Royal issued a statement saying she never said what she said the next day.
=============
If you have any doubt about whether high school students are being manipuated, check out the websites of  the Socialist Party and UNEF, the union of university students and UNL the union of high school students.
 (Why, by the way, is the Union National Lycéenne calling on the government to withdraw its pension reform? See their manifesto here).