Pamela Griner Leavy  talks with Lauren Grodstein about the life of the novel, passion and digging deep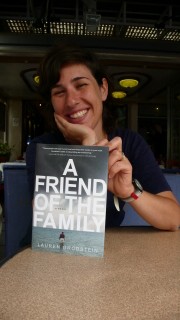 The author of the breakout debut novel Reproduction is the flaw of Love and the  highly-acclaimed A Friend of the Family, Lauren Grodstein alternates between New Jersey where she teaches creative writing at Rutgers-Camden, and Paris, which has been Grodstein's summer home for five summers.
With a break only in 2008 when she gave birth to her son, Lauren teaches fiction craft at the Paris American Academy which draws students from all over the world.
Pam met Lauren by happy coincidence at the Village Voice, where the Paris American Academy faculty was giving what turned out to be a most excellent reading. 
Here are some extract of their conversations.
(Some of Lauren Grodstein's comments for this Paris Writers News interview were taken from a previous interview with Veronika Walker, BellaOnline's literary fiction editor.)

 PUSH PUSH PUSH – READ READ READ TURN OFF THE TV
     Grodstein works by starting on the page and pushing through. Of course writer's block can happen. "All the time, often when I am writing I run out of steam mid-sentence."  Grodstein then turns to reading whether it is Mr. And Mrs. Bridge, books by Phillip Roth, or trashy novels and paperbacks.
     "Read as broadly as you can because you never know what will inspire you. And I know it's almost as annoying as those suggestions that you stop buying lattes to save yourself seven bucks a week, but seriously turn off the television. It's amazing how much time you'll find to read and write.
IS FICTION WRITING DEAD?
"People are always saying the novel is dead. It is more alive now than ever. Yes it is hard to make money. It has always been hard. Yet the writing talent is out there and they want to study writing.
FOR MY STUDENTS IT IS ABOUT THE PASSION. Fiction writers never expect to make money in the first place. Do it to make your life more meaningful."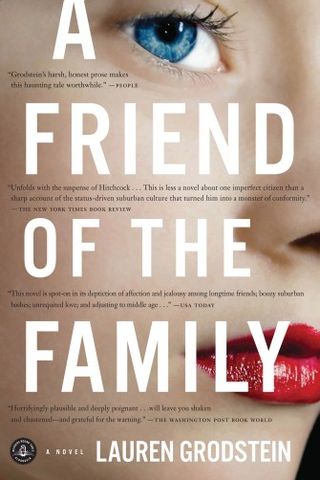 TRUST YOUR EDITOR, KILL YOUR BABY.
     Let your work rest and then review it. "Writers are artists and should never look at the paint when it is fresh. Artists love their most recent creation like it is their baby. Editors may kill the baby. A look back by writers and editors show the flaws and it is not always easy."
DIG DEEP INTO DIVERSE VOICES
     Grodstein's father gave her Herman Wouk's epic novel Winds of War when she was a young girl. Wouk wrote in many voices, men and women, American, German, Nazi, Jew. In a Friend of the Family she narrates in the male voice.
     This summer Grodstein read from A Friend of the Family at the Village Voice bookstore in Paris. The book focuses on the trials and tribulations of Pete Dizinoff a successful internist who has raised his family and built a thriving medical practice in Round Hill, New Jersey.      "Sure I wrote in the voice of a man in the book. That is what writers do. I didn't stop to let myself think I couldn't do it. Men and women aren't that different. You experience certain things the same, like heartbreak and joy, regardless of your gender.  Don't stop to worry whether you are getting it right or wrong. Write deep within that voice. A fiction writer has the voices of many people.
CONNECT WITH OTHER WRITERS
 Grodstein recommends connecting with a community of writers such as the Paris Writers Group.
      "Find a community of writers, either on-line or in person. There are  enough distractions in life that keep us from writing but having a community of fellow writers who are expecting you to complete something (and even better, expecting you to read what you complete ) helps keep you going."    
FOR MORE PARIS WRITERS NEWS INTERVIEWS