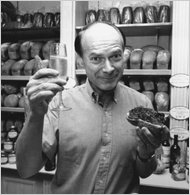 Michel Montignac, the self-trained French diet promoter and best-selling author died Sunday at the age of 66. The cause of death was not announced.

His book Je Mange Donc Je Maigris ("I eat, therefore I lose weight"—or Eat Yourself Slim), achieved super-bestseller status in France, becoming a business franchise with diet stores, spas and restaurants.

 

An executive for a pharmaceutical company in the 1970s, Mr. Montignac became a publishing phenomenon. His 1986 self-published book "Dine Out and Lose Weight"  sold 550,000 copies in France. A year later, he published "Eat Yourself Slim ... and Stay Slim!" a layman's version that by 2005 had sold more than 16 million copies in 40 countries, including the United States, according to his Web site.  (for full obituary see NYT)

 

Targeted in his diet are potatoes, white bread, white rice, corn, refined flour, corn flakes and carrots. In some respects the diet in not unlike the Atkin's diet (interestingly Robert Atkins died at 72 after a fall).

 

Other diet and health gurus who died young include:
Dr Paavo Airola,

America

's most acclaimed longevity specialist - author of How To Get Well and How to Keep Slim, Healthy and Young With Juice Fasting -

 

died of a stroke at 64.

 

T.C. Fry

- leader of the Natural Hygiene movement in the

US

– died of a pulmonary embolism at the age of 70.

Jim Fixx

, who founded the jogging cult in the

USA

, with his 1977 Complete Book of Running, died of a heart attack at the age of 52.

George Ohsawa,

inventor of Macrobiotics ("the way of long life"), died of lung cancer at 73.

Adelle Davis

whose 'Let's Eat Right' sold ten million copies, died of cancer at age 70.

 

Dr Stuart Berger, who advocated vitamins, minerals and exercise, died of a heart attack at 40.

Dr. Robert Atkins, inventor of The Atkins Diet, died at age 70.