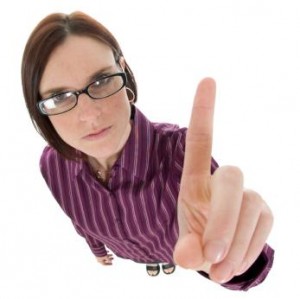 Why does every Tom, Dick and Harry think he should tell tourists what to do in Paris?
Imagine, you're coming to the world's most beautiful city, and some silly "expert" tells you, "don't eat croissants!" "don't waste your time on the Eiffel Tower!" "Don't spend a day in the Musée d'Orsay!"
WHO would dare?
Here's a fun post I would like to share with you from Concierge.com, entitled: 10 things not to do in Paris. Tourists beware! You'll find better advice on a toilet stall! (Except for the thing about shopping on the Champs Elysée--that's true.)
Don't…
Waste Time At The Eiffel Tower  
For heavens sake. Have you SEEN the Eiffel Tower? It's fa-bu-lous! And the ride up is fun! Take the kids, look out on all sides. Get an ice-cream! Buy a souvenir. Why the hell not! 
Don't…
Seek Out Bohemian Ambience On The Left Bank

What's wrong with the Left Bank? Terrific ambiance, wonderful little bookshops, unabashed tourist nonsense galore and, yes, the real Sorbonne! Don't snub it, enjoy it!
Don't…
Spend All Day At The Louvre Or Musée D'Orsay

These are terrific museums. You can't visit everything and survive, but you can spend a very pleasant day, especially if you take the time and spend the money to have a nice meal in one of the quieter restaurants. If you go with children, think of giving them a drawing pad and pen, and follow their interests. (Babylon in the Louvre can't be beat.)

Only one warning from me: don't try to squeeze in more that one museum in a day. That wrecks it.
Don't…
Commit A Fashion Faux Pas

Don't commit a heat stroke faux pas! By Gaulle you're a tourist! It's hot, there's no air-conditioning and you're walking in unfamiliar terrain. Dress however you like! 
Don't…
Book The Cheapest Hotel
Better advice would be: book a furnished flat (which might be cheaper than the cheapest hotel and a lot nicer) or get recommendations from visitors. Hotels in Paris are much smaller than Americans are used to, so be prepared. 
Don't…
Get Around Town In A Cab

Cabs are for midnight. Zooming along admiring the illuminated monuments with a slight buzz from too much wine, how bad is that? But, yes, know where the cab stations are or have a number to call. 
Don't…
Buy Into Stereotypes

But all the stereotypes are true! You think doggie doodoo on the sidewalks is an urban myth? Just try to walk and read a newspaper at the same time. I'll not let you into my 4th floor walk-up!
Have a Story About Paris? 
See the Paris Short Story Contest submissions Guidelines !