Elizabeth and I talk about how we try to combine the best of French and American culture in our lives, marriages, experiences of parenthood – and of course, food!  (Elizabeth is the author of Lunch in Paris: A Love Story with Recipes)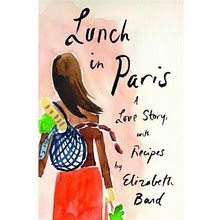 Now I'm not one usually quick to praise (as readers of Sorbonne Confidential know), so the question posed a a bit of a challenge. To get the ball rolling, Elizabeth and I decided to meet and share ideas : 
What's to love about Paris?
EB: Food for pleasure, not fuel: I love the idea that a French meal is something to be planned for days, lingered over for hours, and talked about forever. I love that fresh ingredients make it simple to cook great food. I love that people don't eat in their cars, or on the street, or at their desks. I love that meals are still the central thread in the social fabric of France.
LZ: Food, of course the food! I love the ritual of preparation, the anticipation, the effortless culinary skill of friends and neighbors, the civilized pleasure of eating, drinking and talking together—the banishment of vulgar talk of carbs and proteins. I am eternally grateful to France  that my daughter at 12 can prepare a beautiful three course meal.

EB: Weekend is not a dirty word: It's no exaggeration to say that the French are always going on, returning from, or planning their next vacation. Time off is sacred to them, and although my husband and I work a lot, balance is essential – in the end, I think it makes us more productive…

LZ: I walk everywhere. My children walk everywhere. We don't have a car, don't NEED a car.  And when we walk, it's side by side, not Mom the Chauffeur in front shuttling from one appointment to another. We can talk, admire the sights, breathe the air (ok not always a plus).  Kids can run to the store by themselves to pick up milk or eggs. It feels right.
EB: Don't join a gym, take a walk: As a girl who thinks sweating should be reserved for vigorous sex – I'm totally in line with the French idea of exercise. Take a walk, drag the groceries up six flights of stairs, don't eat till your pants split. Common sense that seems to keep French women slim without a stairmaster.
LZ:  Having babies. Giving birth  is scary enough, and it's a relief not to have to worry about the cost. Also, your job is protected and you get  three months off, paid—and the possibility of a leave of absence.  
EB: My husband's three week paternity leave: Never mind that I spent six days in the hospital FREE of charge. I'll say that again – six days of hospital care, midwifes, and doctors FREE of charge. Not only were my bump and I graciously waived to the front of the line at the supermarket, taxi stand, airline check etc.  New French daddy's have three weeks with their partners and newborns; It was such a special bonding time for us as a new family – we got our feet wet, could share sleep shifts, and take baby Augustin for his first café crème.
LZ: Ecole maternelle is excellent. While finding a nanny or a crèche can be difficult, from age three all children can attend école maternelle, which is free, well organized and generally staffed with kind and well trained teachers. It's the best part of Education Nationale.
EB: If I lived in the States right now, I'd turn into a cupcake: I'm finding it harder and harder to make good food choices when I'm back in the US with my family. My mother's fridge is lined with a wall of condiments, and there's a cupcake (or a muffin, or a scone) at every turn. Why, every time I see a newsstand, do I crave Dots and Twizzlers? I struggle with the enormous portions, if it's there – of course we'll eat it…
Tomorrow: some of the NOT BEST things about Paris
All this is part of the WHSmith reading series around the launch of Sex in the City 2 –come continue the discussion with us over a drink!  4 June 5-7  pm Café Etienne Marcel, 32 rue Etienne Marcel 75002