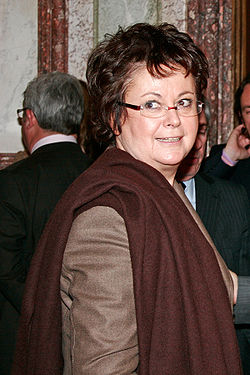 How many salaries, perks, pensions and special missions does a lady need to make ends meet? 
Answer:  It's never enough!!
At least, not for Christine Boutin...
Power, pay, perks and even pensions. French politicians can enjoy the benefits of up to four jobs at one time ! 
It's called :   
It «consists of holding several political offices at multiple levels of government...local, regional, and national levels: mayors of towns, deputies in the National Assembly, Senators, Members of the European Parliament, and President of the General Council in their home regions. "
In addition to all this, you can also get paid for "special missions"!
Like Christine Boutin's mission on globalization. For which she receives 9500 euros PER MONTH! At that price, she must have some pretty interesting observations to share!
This is, of course, in addition to all her other salaries, perks and pensions (Yes, not only do elected officials have extremely advantageous pension benefits, they can mix and match them!)
The ex Minister of Housing and Urban Development made a name for herself for her harsh stance in dealing with the homeless and her extreme Papophilia.
But with economic crisis increasing calls for sacrifice and pension reform looming on the horizon, these advantages look, well, hypocritical and disgusting.
See this week's Economist "One Salary is Enough" "
French "...lawmakers get 40 return flights a year to their constituencies and free train travel, as well as pension benefits that accumulate twice as fast as those of civil servants. Most ministers get official lodgings. And no deputy has to give up another elected office to sit in the National Assembly. So parliamentarians can merrily collect salaries and pension rights from local and regional government at the same time."

And today's Figaro for more French pols oinking it up .
Nine Ministers are receiving multiple salaries! (Figaro)
A suivre...