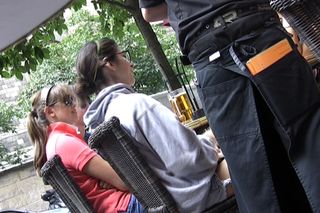 A big thank you to  rue89 for its article on how a café on Ile Saint Louis cheats English-speaking clients by bringing them GIGANTIC drinks that no Parisian would ever receive: "In Paris one litre beers--for tourists!"
Rip-off number one: gigantic "tourist" portions and extras that you didn't know you ordered.
The author, a student named Soline Ledésert, explains how the scam works:
The tourists order in English :
« Two coffees, two hot chocolates and one beer, please. »
The waiter, without mentioning price, asks : « Coffees with milk ? »
Without knowing that their « yes, please » will cost them an additional 3 euros, the young women accept.
« And the beer, medium or large ? » 
Understanding « large » to mean a pint, I also agree and opt for « large ».
Our drinks arrive a few minutes later. Two bowls of hot chocolate. Two bowls of coffee (yes, BOWLS!). And a LITRE of beer.
The bill: 40 euros!
Rue89 then contacted the owners of the café on Ile Saint Louis to verify the story. Their response is so wonderful that I reprint it in both English and the original French here.
The café owners:
"We are in a tourist  zone and, sure, we take advantage of it. We're not thieves; we're not the most expensive on the street. And, besides, we get cheated when we're abroad. Sometimes there's trouble, but like everyone else. Before our prices were inexpensive, and everyone thought our stuff was crap. Now, I swear to you on the heads of my children, we make exactly the same stuff, three times as expensive and no one thinks it's crap. "
C'est assumé ! On est dans une zone touristique, on en profite. On n'est pas des voleurs, on n'est pas les plus chers de la rue. Et puis, nous aussi on se fait arnaquer à l'étranger. Ça nous arrive d'avoir des histoires, mais comme tout le monde.
Avant on n'était pas cher et tout le monde considérait qu'on faisait de la merde. Maintenant, on fait exactement la même chose qu'avant, je vous le jure sur la tête de mes enfants, mais trois fois plus cher et plus personne ne dit qu'on fait de la merde. »
Tourists! This scam is easy to avoid.  ASK! When the waiter says, "a side salad with that", ask, "is that included or does it cost extra?" If you don't speak French, ask for a menu and point to the item (with the price) on the menu. In tourist areas, never say "yes" to an offer of "large" without checking the price.
Coming up:
* (not just for tourists) The famous "mistaken" change for a ten instead of a fifty...
HAVE YOU BEEN SCAMMED IN PARIS? BY WHOM? HOW? WHERE?