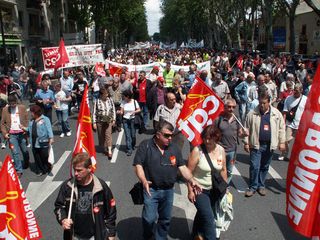 In honor of the SNCF's strike this week, we explore the question: Does France strike more than other countries? Myth or reality?
To help us understand, here's a detailed analysis by Nicolas Quint, a young French entrepreneur whose blog Résultat d'Exploitation, aims to decode the economic and social mysteries of France. He took the trouble to crunch the numbers, and the result, while not shocking for us long time residents, goes some way to rehabilitating our beloved adoptive country.
France, land of strikers? Here then, is Mr. Quint's answer:
"Globally, over the long term, the number of days lost to strikes has tended to decline:
About 1 million each year  in the 60s (with a spike of 150 million!  in 1968);

2 millions in the 70s (start of mass unemployment)

Only 500,000 in the 80s with a jump up to 780,000 during the massive strikes under Alain Juppé.

These days

France

loses 300-800,000 days each year, which is actually not too bad.
HOWEVER, it's when we look at WHO's striking that it gets interesting.
In 2000, government employees were only 25% of the workforce BUT 70% OF STRIKE DAYs!
FONCTIONNAIRES ARE SEVEN TIMES MORE LIKELY TO STRIKE THAN PRIVATE WORKERS.
And it gets worse.
From 1990-2000, the SNCF --who represent a tiny 1% of workers in France, ACCOUNTED FRO 40% OF ALL STRIKES DAYS.
To compare:
In 1998, for each strike day by a private sector employee, FONCTIONNAIRES TOOK SEVEN STRIKE DAYS  AND THE SNCF  25 STRIKE DAYS!
Why? asks Mr. Quint.
Mostly, it seems, because they can. And because they are controlled by radical unions who compete to stake out the most radical positions. (Read his analysis in French here.)
To see what kind of benefits SNCF employees enjoy, look to this week's l'Express. The pensions are unbelievable!
Sarkozy has promised to reform pension benefits this year. France may reclaim its title as number one striker yet!