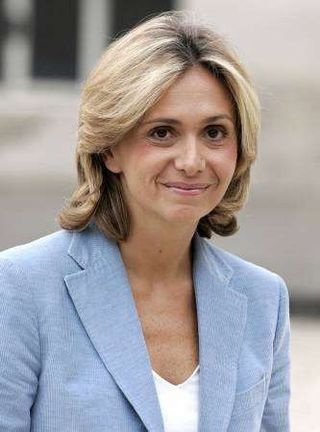 KUDOS to the CERCLE HERNANI for the nuttiest campaign inFrance's regional elections.
The  slogan?
THANK YOU FOR NOT VOTING FOR VALERIE PECRESSE, LOVER OF THE ENGLISH LANGUAGE!
Ms. Pécresse's crimes?
She is an "Obsédée d'anglais" (loosely translated as "English-loving maniac), recipient of the  PRIX D'INCIVILITE LINGUISTIQUE (prize for linguistic incivility) for her effforts to improve English language skills among university graduates.
The Cerle Hernant begs voters to reject Ms. Pécresse in the regional elections: "IN THE NAME OF THE FRENCH LANGUAGE, THE FRANCOPHONIE, THE STRUGGLE AGAINST ALL-POWERFUL ENGLISH AND IN GENERAL FOR THE RESPECT OF DIVERSITY IN LANGUAGES."
It goes so far as to compare her to Nazi sympathizers and to call her a "poison" to the French language.!
 I swear I do not make this up.
 To see this remarkable diatribe against the Minister of Higher Education, click here.
An extract in the orginal French (so offensive I don't feel like translating it).
Bref, comme au temps de la milice dans les années 43-45, où certains Français étaient plus nazis que les Nazis eux-mêmes, nous avons aujourd'hui avec Mme Pécresse, une « Française » farouchement partisane du tout anglais, plus zélée peut-être encore en la matière que les meilleurs agents de la CIA.
 Cette dame est donc bel et bien un réel POISON pour la cause de la langue française et de la Francophonie. 
Who dares to compare Mme Pécresse to Nazi sympathizers? According to CERCLE HERNANI site,  the tract was published by the ASSOCIATION FRancophonie AVenir (A.FR.AV),  une association apolitique de résistance linguistique et culturelle.  2811 chemin de Saint-Paul - Parc Louis Riel - 30129 Manduel  Site : www.francophonie-avenir.com - Courriel : afrav@aliceadsl.fr ")
TO SEE THE TRACT DISTRIBUTED BY THE ASSOCIATION FRANCOPHONIE AVENIR CLICK HERE.