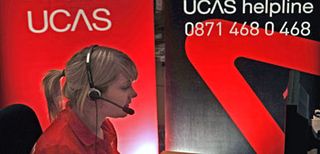 No university places for 50,000 with good grades ! a Times headline screams.
In the UK,  "Ucas applications are already up by 23 per cent — or 106,389— this year, but the number of places has been cut by 6,000. Last year, 30,000 good students failed to get into university."
"We have got a rise in the number of applicants," Uca head, Ms Curnock Cook said. "Clearly entrance becomes more competitive."
The Times article by Joanna Sugden provoked a thoughtful debate among readers:
Is everyone ENTITLED to a university education? I

Is it a mistake to encourage ALL students to attend university? 

How much to subsidize higher education? 

How to determine which students get in?
These questions deserve serious thought on this side of the Channel as well.
In the USA, all but a handful of states have slashed university budgets and raised tuition due to the financial crisis.
California has been hardest hit. "The Cal State system has lost one-fifth of its state funding in the past two fiscal years, a $625 million reduction, and students have absorbed a 32 percent tuition increase this year. The system's 48,000 employees took a 10 percent pay cut through furloughs -- two full days per month, across the board. The system is cutting 20,000 students this year."--Washington Post.
France, meanwhile, has increased university and research spending--albeit from a very low base--by 2.9%.