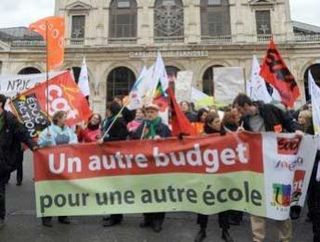 Five million were invited. 
But by midday, only three guys and a dog  had shown up.* 
Not a great score. Though, to be fair, it was the dead of winter.
Strikes in France can be boisterous, happy affairs. Rather like massive block parties with celebrants bussed in from the provinces to enjoy a holiday with the camarades  decked out in matching caps and blowing whistles.
But cold and rain along with a general lassitude spoiled the fête.
French unions had expected better. They wanted to protest reductions in the numbers of civil servants (by retirement, not firing) and express their displeasure with the various reforms. 
To make matters worse, yesterday, parents organized their own protest AGAINST absent teachers who are not replaced (read more on the parents' revolt) . 
It's the world upside down!!
=======================
*not technically true. The real figures  (according to France 24)  are 12.2 % for state civil servants, 3% for local authorities, and 2% for hospital personnel.  In Education, only 14% of staff mobilized.