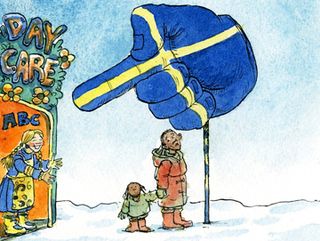 How  to integrate foreigners? Sweden starts early, with compulsary preschool for all.  From 12-18 months old, foreign children are strongly encouraged to join their Swedish-born brethren in snowsuits and collective Swedish games--while mothers are gently but firmly pushed into the work force.
See this fascininating article from The Economist for more details. 
Meanwhile, young Qataris are infuriating their elders by "cross dressing"--that is, dressing in shorts and shirts like American girls. According to The Economist, "manly women" (as these girls are called)  are being condemned as part of a "foreign trend" brought into the Gulf by the evils of Globalisation. When asked on a Qatari talk show, how to deal with these girls, some members of the studio audience called for the DEATH SENTENCE.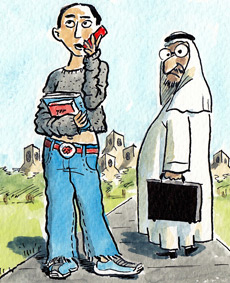 On a related topic in the eternal women's fashion debate, see remarkably superficial NYT Editorial The Tabliban Would Applaud on France's efforts to respond to the challenge of the burqa. The NYT  blithely states "People must be free to make these decisions for themselves" while forgetting how much pressure -- and violence--is applied to young girls and women who have no choice whatsoever.
I personally would rather listen to Fadela Amara, who's been on the front lines in France's immigrant ghettos fighting for women's freedom for years.

About the burqa Fadela Amara says,: "Je suis pour l'interdiction de ce cercueil qui tue les libertés fondamentales" et qui est "l'expression visible et physique des fondamentalistes et des intégristes dans notre pays."...
For earlier blog post:   Islam in France