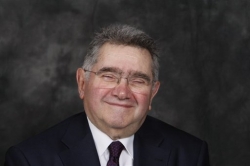 When Claude Allègre famously called France's Education Nationale a "mammoth", I applauded. Minister of Education at the time, he knew what he was talking about and wasn't afraid to speak his mind.
Of course, he flamed out quickly and thoroughly, and none of his proposed reforms came to pass, in part because he relished a fight more than results.
In the past few years, Monsieur Allègre has kept his name in the news by spouting off on the environment. Global warming is a sham! Ecologists got everything wrong. And now, most ridiculous of all, Nicolas Hulot is an imbecile!
But Nicolas Hulot, one of the most productive forces behind the fledgling French ecological movement, is, as anyone who has seen him speak knows, far from idiocy. Stardom is a two-edged sword, but he has used it well, steadily pushing a pragmatic ecological agenda.
All this inflammatory nonsense is actually designed to sell books.  (Not unlike Valéry Giscard d'Estaing's pathetic attempt to capitalize on curiosity about dead princesses.)
Why does Allègre stoop to vile name-calling like a snot-nosed kid ?
Because President Sarkozy did not call.  After painful months of cursing a silent phone, Allègre took matters into his own hands.
Global warming is a fraud! Nicolas Hulot is an imbecile! And Claude Allègre is an honorable man.