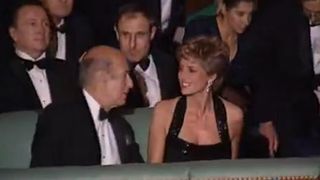 Kiss and tell is bad enough, but dreaming of kissing, then telling, well that's just—weird.
As if Princess Diana hadn't suffered enough in life, former president and well known ladies man Valéry Giscard d'Estaing has written a book called The President and the Princess, in which a French president who eerily resembles himself meets a British princess, who is the exact portrait of Diana, except for the name (now Patricia).
Giscard d'Estaing is a member of the Académie Française despite his previous foray into fiction, a rather forgettable fantasy about an older fellow who picks up a pretty young hitchhiker, who then consents to live with him.  This jaw-droppingly silly book left my mouth hanging open when I chanced to read it a few years ago—this is what presidents dream of? Really? Also: Académie Française? But why?
Well now he's in for it, the poor schmuck. "Ungentlemanly." "Pathetic." "In Bad Taste." "Dream On." These are just a few of the unkind comments from readers of Le Figaro (click here).
Lady Di may be an historical figure but her children, husband, real lovers and entire family are still alive and kicking.
Rather rude forcing her to sleep with him in writing.
What possessed the old guy?