What kind of scientific panel compares organic to regular food WITHOUT TAKING INTO ACCOUNT PESTICIDES?
The British Foods Standards Agency (FSA), that's who!
In the Times article "'Organic food not better for health than factory-farmed food' says report" we learn that the lead researcher, Dr Dangour, is a nutritionist. And as such "he was not qualified to look at pesticides."
"There is a possibility that organic food has less pesticide residues, but this was not part of the review," he said.
The FSA report, by deliberately excluding from the study the main benefit of organic foods, concluded  that organic food is "no healthier than other produce", thus landing a blow against the 2 billion pound organic food industry.
"Consumer groups said that shoppers may now think twice before buying organic."
 The motivations behind this report, issued ahead of an EU study, deserve some clarification.  See the Soil Association's response here.
Contamination of fresh produce by pesticides continues throughout the EU, most alarmingly in France, where regulatory agencies tend to be controlled by the pesticide industry (called "phytosanitaire").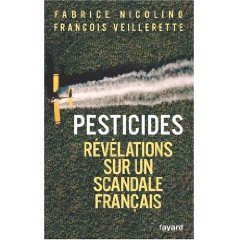 For a close analysis of the situation here, read (in French), Pesticides : Révélations sur un scandale français.