Normally ecologists dislike mass consumption.  But when new appliances REDUCE use of electricity and water by half or more, maybe it's time to whip out the visa card?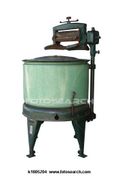 According to Adame cited in Le Figaro, two thirds of the electricity consumed by French households is from electrical appliances. And, in the past ten years, European manufacturers have reduced energy use  of appliances by half.  New labelling requirements and "green" marketing campaigns are making energy use a selling point.
And it's not just electricity. The average water consumption of European washing machines has fallen from 120 to 40 litres in 25 years.
So, want to fight global warming?
Replace your old dryer, refrigerator, washing machine and dishwasher!
How to identify the new, energy and water efficient models? Check the energy label for A++.
(This will soon be modified to reflect recent advances...)
To read the complete Figaro article, click here.