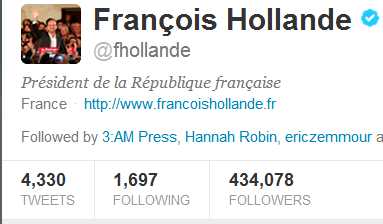 Social media rules!
At least that's what politicians have heard. Including French ones. 
So François Hollande, president of France, has a twitter account. 
434,078 followers, hanging on every tweet.
How cool is that?
The challenge is: what to say? 
   François Hollande's tweets: a sampler.
"L'État sera toujours au rendez-vous de la capitale. Je n'ai qu'une chose à exiger : que Paris soit toujours Paris !" - May 15, 2012 (215 RT)
"La République ne laissera aucun de ses enfants de côté mais elle ne permettra à aucun de dériver." - May 15, 2012 (303 RT)
 "La République sera à tous les Français" - May 15, 2012 
"L'enjeu de ce quinquennat qui s'ouvre est la jeunesse."- May 15, 2012 
 "Le beau doit appartenir à tous. Le beau n'est pas un privilège."- May 15, 2012 
"Cher Bertrand Delanoë, j'ai saisi votre émotion."- May 15, 2012 
"Je réitère aujourd'hui mon engagement de recruter 60.000 personnels de l'éducation sur la durée de mon mandat."- May 15, 2012 
  "Je veux servir une grande cause : le rassemblement. L'espoir doit en être le fil conducteur. Vive la République, vive la France !"- May 15, 2012 
"La justice sera le seul critère sur lequel chaque décision sera prise au nom de la République."- May 15, 2012 
"Il est temps de remettre la production avant la spéculation. L'emploi durable avant le profit immédiat." - May 15, 2012 
===
Hey wait a minute! This looks like a speech! Hmmm.
Looks like FH's ghost tweeter had lots of inspiration on May 15, then, after one last tweet, dropped off the face of the twitterverse three days later never to be heard from again. (This was before his girlfriend's meantweet about his ex-wife).
Nearly a half million twitternauts haven't heard from their Pres in THREE MONTHS!
Hey Social Media mavens out there: any advice for our tweet-tied French president?
***
For fans of French politics here are the twitter handles for some of your favorite pols:
@RoyalSegolene
@valtrier
@FrancoisFillon
@montebourg
@CecileDuflot
@MartineAubry