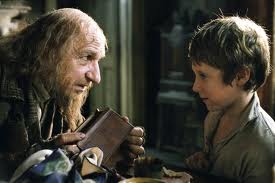 Think Oliver Twist.
Paris: Criminal gangs from Romania press gypsy children into service stealing iphones and wallets from Paris tourists. As minors the children are systematically released by the French police after a few hours. They are trained to give false names and refuse photographs and fingerprints. The French police is working together with the Romanian police to identify and arrest the adults in charge of these operations. According to France 24 a "Romanian" child can steal five iphones a day.
Favorite targets:
1) iphones sitting on the tables of outdoor cafés (please gentle visitors, do not put your iphone on the table)
2) purses and wallets, pick-pocketed from behind while another child distracts the tourist with a petition to sign or a question
3) bogus petitions for a non-existent deaf-mute association, especially near the Paris Opera. 
See this France 24 video documentary by Mirel BRAN for more.
Paris visitors, that petition for deaf-mutes is fake!