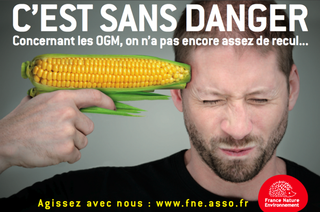 "IT'S
RISK- FREE"
"For genetically modified crops we don't have enough distance"
This is one of the posters created by
to try to get the attention of  French authorities.
Well, mission accomplished! Three of the six posters were suddenly withdrawn by the RATP--(see below.)
 Another ad deals with green algae (also called killer seaweed after a horse and a man died in separate incidents after inhaling their toxic fumes).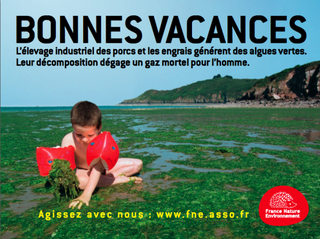 HAVE A NICE VACATION
"Intensive industrial hog farms and fertilizers promote the growth of green algae."
"Their decomposition emits a gas which is lethal for man."
 WITHDRAWN BY RATP WITHOUT EXPLANATION
The next ad refers to the lack of obligatory labelling requirements on meat products from animals fed genetically modified food.
B
BIG LIAR
 "The law does not require special labeling for animals fed genetically modified food."
THE END OF BUZZZ says the next poster, referring to the massive die-off of bees.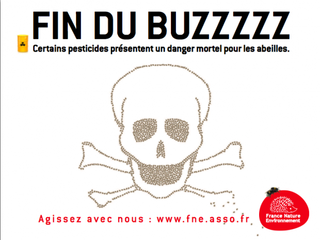 "Certain pesticides carry a mortal risk for bees."  
WITHDRAWN BY RATP WITHOUT EXPLANATION
Le Figaro 16 Fév 2011
"La RATP vient de décider de retirer trois des six affiches de cette campagne. Il s'agit des deux portant sur les algues vertes, et de celle dénonçant l'impact des pesticides sur la disparition des abeilles. Selon Benoît Hartmann, le porte-parole de l'association écologiste France Nature Environnement, la RATP a agi «sans (leur) fournir aucune explication. On ne sait pas pourquoi en France, il est impossible de parler de l'agriculture intensive au moment du salon de l'agriculture» explique-t-il." -